Affiliates of TQHA
For information on STOCK SHOWS & RODEO – click here
Alamo Quarter Horse Breeders Association
San Antonio

The Alamo Quarter Horse Breeders Association is one of the oldest AQHA affiliates in continuous operation. It was formed over 50 years ago in San Antonio to promote the American quarter horse. This purpose has never changed. AQHBA has four show circuits each year, all located at the Rose Palace just north of San Antonio. Recently the association has begun reaching out into other disciplines including competitive trail rides, to draw new participants into the association.
For more information visit aqhba.com
Big Country Quarter Horse Association
Abilene
Sponsored shows – BCQHA Mini Winter Circuit (Abilene – February), Texas State Amateur Show (Waco – April), BCQHA Summer Circuit (Abilene – June)
For more information contact:
Carol Boyd, BCQHA Secretary, email car-ron@att.net or Dona Triplitt, Show Secretary, email donatriplitt@hotmail.com
Aggie Super Circuit Show
College Station
The Brazos Extension Horse Committee is a group of dedicated equine enthusiasts committed to "Educating, Serving, Connecting, Promoting, and Leading".
Britannia Farms Shows
Katy
Sponsored shows – Britannia Farms Winter Classic (Katy – February), Britannia Spring Celebration (Katy – April), Britannia Farms Santa Claus Circuit (Katy – December)
The Great Southwest Equestrian Center is a multipurpose event facility located in Katy, TX that has been serving the greater Houston community for 20 years. As a world class facility, we can host multiple equestrian events in almost any equine discipline.
For more information visit britanniafarm.com
Capitol Area Quarter Horse Association
Georgetown
The Capitol Area Quarter Horse Association offers a minimum of four Open Horse Shows each year at the Austin/Travis County Expo Center covered arena. These shows are open to all breeds and all levels of riders. We are also proud to offer a Novice Youth and Novice Amateur Quarter Horse show at our last show of the summer season, typically in August. Our popular shows feature traditional English and Western classes, halter, showmanship, work-at-will trail, and walk/trot classes in each division. We have fantastic high point awards at each show in the Novice Rider, Green Horse, 13 and Under, 14 – 18, and 19 and Over divisions. Our shows are run smoothly and efficiently by a great group of volunteers and office staff. CAQHA also recognizes non-Quarter Horse activities by assisting and contributing to area 4-H groups and handicapped equestrian programs. We hold clinics, based on member suggestions, lead by area professional horsemen and women. CAQHA is a non-profit organization governed by volunteer officials and board of directors. Formed in 1984, we enjoy supporting the Quarter Horse industry in Texas by producing quality shows, clinics and providing educational information to our members and all Central Texas equine enthusiasts.
For more information visit caqha.com
Go Texan Spring Show
Athens
The Henderson County Go Texan Committee was formed to support Henderson County Youth through scholarships. The Spring Show hosted each year the first weekend in April is one of two main fundraisers held each year. The profits of these AQHA shows go into a scholarship fund. To date the committee has awarded over $170,000.00 is scholarships to local youth thanks in part to our horse show exhibitors.
Contact person for these shows is Carol Mills 903-489-0837 office, email carol@rockcrestranch.com
Greater Houston Quarter Horse Association
Houston, TX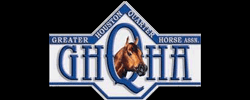 The Greater Houston Quarter Horse Association is based in the Houston area generally meeting in Cypress TX.
The Greater Houston Quarter Horse Association's primary goal is to promote the Quarter Horse industry by offering Quarter Horse shows, Introductory shows, clinics, informative meetings with speakers, updates on what's happening in the industry along with other activities. GHQHA believes a club is only as strong as it's membership, so the meetings are not only informative, they are FUN with the club furnishing meals and giving away door prizes. GHQHA is currently working on introducing speed events into their shows which is an area that needs to have more venues in Texas. We recognize that the future of the Quarter Horse Industry is the beginner or novice level rider and the club is focusing on this fact by striving to include and educate this important untapped resource.
For more information visit ghqha.com
Showbill for GHQHA – Texas Two-Step Email PDF Show Bill
Guadalupe Valley Quarter Horse Breeder's Association
San Antonio

GVQHBA was locally organized on January 18, 1980. Our mission is to promote education and involvement of our youth through growth and knowledge of Agribusiness, particularly the American Quarter Horse.
GVQHBA organizes and hosts three Circuit Shows per year (February, June, October), one open show and one Special Event per year.
Guadalupe Valley Quarter Horse Breeders Association
Post Office Box 1031
Whiteboro, TX 76273
Phone: 210-635-7819 Fax: 210-635-8059
Website: gvqhba.com
Hunt County Horsemen's Association
Sulphur Springs, TX
For more information visit huntcountyhorse.com
North Texas Spring Show
Amarillo
Phone: 719-384-4980
Website: mane-events.com
Northeast Texas Horsemen's Association
Sulphur Springs, TX
Northeast Texas Horsemen's Association is a group of horse owners, breeders and trainers that recognized the need for an organization that could bring together the talents, interests and facilities available in the Northeast Texas area for the benefit of all horse enthusiasts. We are an organization open to all breeds and disciplines and are committed to promoting all types of equine events in an affordable, family friendly atmosphere. The membership represents a wide and diverse mix of horse people from back yard horsemen to full time professionals with World Championship trophies.
For more information visit netha.com
Remuda Quarter Horse Association
RQHA is a quarter horse club whose purpose is to promote the quarter horse industry in West Texas and surrounding areas. We host American Quarter Horse Association shows, clinics and have a scholarship program.
Affliliate Shows: October & March
For more information go to: www.remuda-quarter-horse-assn.org
Rio Grande Valley Horse Show Association
The RGVHSA is a non-profit organization committed to providing an open breed SADDLE & BUCKLE horse show circuit in the Rio Grande Valley of
Texas.Our show facilities are located at the beautiful Rio Grande Valley Livestock Show Arena, (1000 N Texas Avenue, Mercedes, TX 78570). Our open breed horse show circuit enables both youth and adults the opportunity to show horses in a variety of events in a friendly and competitive environment. The RGVHSA is committed to the promotion of sportsmanship, leadership and community service. For more information, see our website at www.rgvhsa.com
Mid-Tex – Waco
The MidTex Quarter Horse Assoc (MTQHA) offers three Open Horse Shows each year at the Bell County Expo Center. These shows are open to all breeds and all levels of riders. We also offer one AQHA Show a year, in the fall, at the Extraco Event Center in Waco, Tx. Our shows feature traditional English and Western classes, halter, showmanship, work-at-will trail, and walk/trot classes in each division. We offer high point awards at each show in five divisions. We hold clinics and playday activities lead by area professional horsemen and women. MTQHA is a non-profit organization governed by volunteer officials and board of directors. Based out of the Killeen-Ft Hood area we enjoy promoting the Equestrian industry in Texas by producing quality events. For more information please visit our website mtqha.org