2021 Sale Futurity

350 Yards
Retama Park – – Estimated $500,000 Purse
FOR 2019 FOALS THAT PASSED THROUGH THE 2020 TQHA YEARLING SALE RING
Payment Schedule
| | | |
| --- | --- | --- |
| $200 to nominate | Friday, November 1, 2020 | |
| $500 to sustain | Sunday, December 1, 2020 | Late Penalty $1,500 |
| $500 to sustain | Saturday, February 1, 2021 | Late Penalty $3,500 |
| $500 to sustain | Sunday, March 1, 2021 | Late Penalty $5,000 |
| $500 to sustain | Wednesday, April 1, 2021 | Late Penalty $7,000 |
| $800 at time of entry | (paid at Retama Park – Horsemen'sAccount) | |
Owner(s) must be a current member of the Texas Quarter Horse Association as the owners are stated on the horse's AQHA papers, including partnerships, at time of nomination and at time of race events. Please enclose membership fees with payment if necessary.
Cruzin Cartel Tops TQHA Sale Futurity Trials at Retama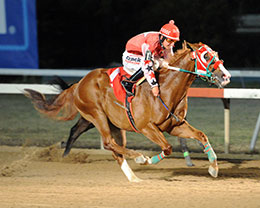 Cuadra Huitron/ Relentless Dynasty wins the 2019 TQHA Sale Futurity!
2019 SALE FUTURITY:
http://www.stallionesearch.com/default.asp?section=19&story=26041
2018 SALE FUTURITY:
http://www.stallionesearch.com/default.asp?section=19&story=24000
2017 SALE FUTURITY:
http://www.stallionesearch.com/default.asp?section=6&area=4&story=22002
2016 SALE FUTURITY:
http://www.stallionesearch.com/default.asp?section=6&area=4&story=19969#sthash.f2oqphwj.dpuf
Payment Schedule
| | | | |
| --- | --- | --- | --- |
| | November 1, | $ 200 | To Nominate |
| | December 1, | $ 500 | Late Nomination $1,500 |
| | February 1, | $ 500 | Late Nomination $3,500 |
| | March 1, | $ 500 | Late Nomination $5,000 |
| | April 2, | $ 500 | Late Nomination $7,000 |
| | At Time of Entry* | $ 800 | *PAID at RETAMA PARK ~ Horsemen's Acct |
| | Total: | $ 3,000 | |